Fuel for Schools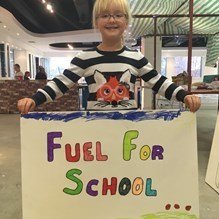 Fuel for School is an exciting initiative created by The Real Junk Food Project in partnership with Richmond Hill Primary School.
The programme has three key objectives:
1. Remove hunger as a barrier to learning
2. Highlight the importance of nutrition, well-being and the associated benefits linked to learning
3. Highlight the vast amounts of wasted (yet perfectly edible) food across our local and wider communities.
"Fuel for School has been created to meet a need. The need is hunger. Children arriving at school hungry can have a negative effect on their ability to learn. Providing children with access to food has resulted in positive outcomes for pupils and their families. Fuel for School is a positive intervention and should be embraced by schools and their communities" Nathan Atkinson – Headteacher Richmond Hill Primary School
The success of the work at Richmond Hill inspired a local awareness day where schools across Leeds were invited to take part in an event where food would be made available to provide a breakfast to any child in the city. Eventually 10,000 children were signed up from Leeds, Bradford, Sunderland and Doncaster and on Dec 8th 2015 children received food that would have otherwise been thrown away. The legacy of this awareness day is the formal creation of Fuel for School. Queensway participated in this event and in Spring 2016 became one of the first schools to join the Fuel for Schools programme.
Fuel for School currently supplies Queensway with a weekly delivery of food. This food is used by the school in a variety of ways; a 'pay as you feel' market stall for the school community, ingredients for cooking activities, 'pay as you feel' pop-up cafes and to help resource our Free Friday Breakfast Club and our holiday club.
In addition to food deliveries the programme also provides schools with an education resource that includes lesson plans and activities designed to improve well-being (including mental health for children), cooking ideas, nutritional awareness (specific reference made to sugar), exercise plans and ideas on how to reduce food waste. The resource links with The Real Junk Food Project in highlighting the global issue of food waste. Schools also receive a visit from Fred the Fox, the official mascot of Fuel for School. Fred; F:eed, R:ecycle, E:ducate, D:ine.
At Queensway Primary School we have used food as a medium to engage with our families, we have started to meet their needs in the most basic way. The children and their families are becoming better educated about food and nutrition and we are helping to provide affordable food to support our families.