Coronavirus Update
Adults and children should not attend school if they have any of the following symptoms of Covid-19:
A high temperature

A persistent cough

Loss of taste or smell
Family Support | Well-Being | Learning at home |Learning in school | General Information
Latest News
Friday, 12th June, 2020
Online Safety
As the weeks of lockdown carry on, we are all spending a more time online than ever before. In such as situation, it can be easy to become complacent about the risks that the internet poses to children. Leeds Prevent is focused on protecting children from all form of exploitation, be that sexual abuse, radicalisation, or fraud. They have produced a short, helpful guide for parents and carers on how to keep children safe, signs that a child may be being exploited, and information on available help.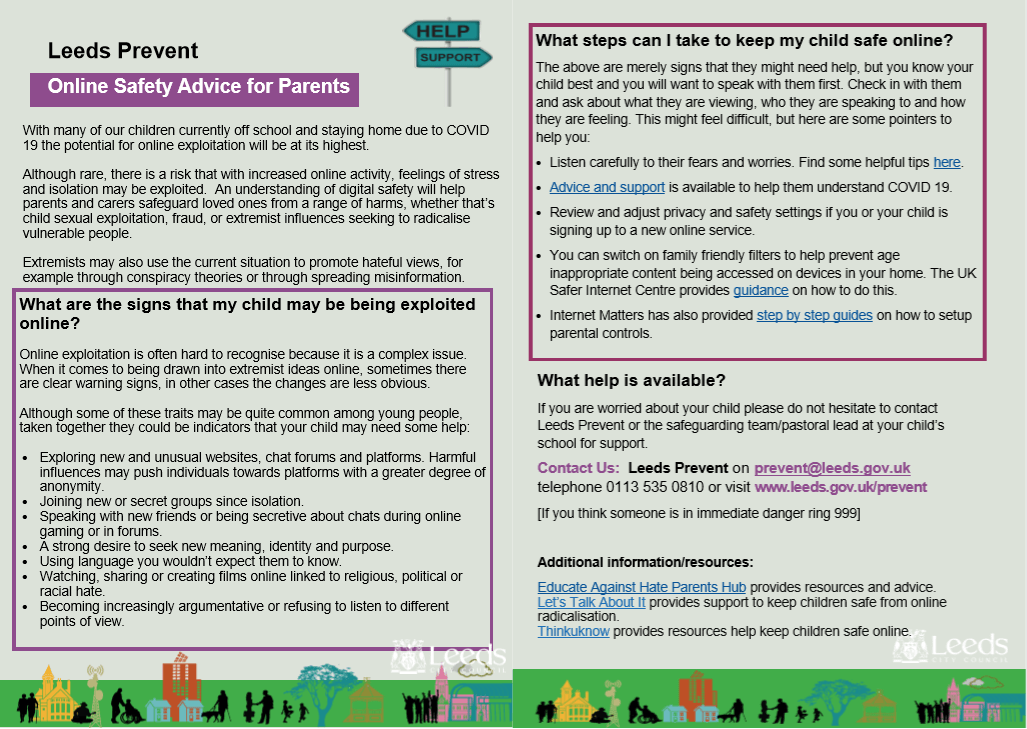 Monday, 8th June, 2020
Letter from Miss Scudder
Our new Interim Headteacher, Miss Lorraine Scudder, has written a letter all parents to introduce herself and to provide a detailed update on the current situation in school. In it, she sets out our plans to begin the reopening of school from Monday 15th June to our Year 6 pupils, and the phasing in of the other eligible pupils from Monday 22nd June. Please note that the provision for Key Workers is not affected by this. The letter also sets out some of the new measures that will be in place in order to protect children, parents and staff which we hope will provide some reassurance. To read the full letter, please go to the 'Letters to Parents' section of the website.

Monday, 18th May, 2020
Message from Mrs Briggs about school reopening
The Government has announced that schools should start to make preparations for re-opening to Year 6, Year 1, Reception and Nursery. We would like families to know we are taking the following steps:
Sending questionnaires to families to establish how many children could potentially attend.

Completing a staff audit to find out how many staff members are able to work in school.

Conducting a risk assessment to establish if we can open safely.
The Government is clear that the 1st June is only the date to begin the transition back to school and does not mean re-opening from that date. School is taking advice from the Government, Local Authority and the Aireborough Trust in order to ensure the health and safety of our families and staff. School must be satisfied that it is safe to re-open and that the risks have been fully assessed and addressed.
School remains closed until further notice. Only children of key workers or those identified as vulnerable are entitled to a place.

School is closed for the half term holiday to all pupils.

Monday 1st June school is closed for a staff training day.

Parents and Carers must await written confirmation of any possible plans to re-open.
We are grateful for your continued support and patience. Our guidance is being updated daily and while we'd like to provide you with clarity around re-opening we are not in a position to do so at this time. We will of course keep you all updated.
Stay safe everyone.
Mrs Briggs
Deputy Head Teacher
Friday, 15th May, 2020
Calling all Cyberspace Cowboys (and Cowgirls)!
Are you the queen of coding? A troll-hunter or web wizard? A white-hat hacker in training? Then why not take a trip to Cyberland, a series of exciting games about cybersecurity from the National Crime agency. Learn about cybersecurity concepts such as firewalls, public wi-fi attacks, phishing and more; understand how to keep yourself safe online; explore how the information security industry keeps our essential systems safe from criminals, and even learn some useful skills that might one day help you get a job in the industry!
For older children (13-18) there are some more in-depth courses: CyberStart Game offers over 200 free cybersecurity challenges involving coding and detective work, with registration open until 1st of August; or Cyberfirst which offers two-week courses over summer focused around instructor-led virtual classrooms, and includes guest speakers from industry and government. Cyberfirst also offers support to students who don't have access to a laptop or fast internet connection.
So get out there and help make the 'net a safer place for us all!
Monday, 11th May, 2020
Prime Minister's 'conditional plan'
Following moves by other countries to begin a slow return to normality, on Sunday Boris Johnson announced provisional plans for some people to return to work and raised the possibility of some children returning to school "at the earliest by the 1st of June". However, he stressed that all plans were conditional on covid-19 infection rates continuing to fall and would be subject to change in the event that they begin to rise again. Naturally, this raises a lot of questions for parents about what this means for their children. We would like to make it clear that, for now, nothing changes in terms of children currently in school. We remain open only to children of key workers and those identified as vulnerable. As we receive guidance from the government and the local authority, we will change this advice as appropriate.
As always, the well-being of the children, parents, staff and indeed everyone in our community will be the highest priority for us, and we don't want anyone to feel anxious or worried about what's to come. Feel free to contact the school if you have any concerns whatsoever, and as soon as more details become available we will be passing them on to you.

Monday, 27th April, 2020
There is a lot to think about at the moment. From the hectic day-to-day realities of working and schooling from home, to trying to support friends and family in who are self-isolating, to the endless gloomy news reports, not to mention those who are facing real hardship or bereavement; this situation can feel like a perfect storm of stressful stimuli. That's why it is more important than ever that we all take care of our mental health and that of those around us. There's a whole range of useful links in the Well-Being section, and below is a handy 5-point cheat-sheet for those moments when we we're feeling overwhelmed: please consider using it, or recommend it others who might find it useful; it's amazing the difference that taking a moment out can make. Finally, please remember that we at Queensway are here for everyone in our community - if you are experiencing difficulties, please don't be afraid to reach out to us.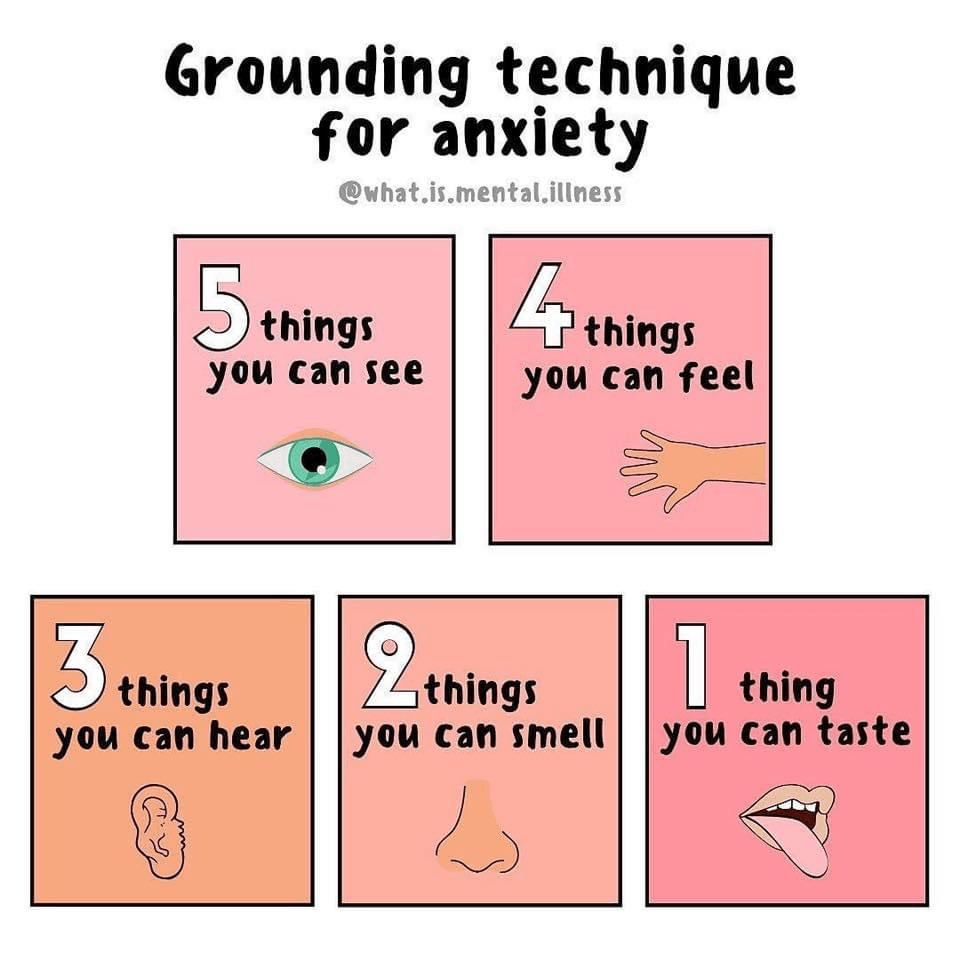 Wednesday, 15th April, 2020
Changes to nursing services in Leeds
Leeds Community Healthcare have announced some changes to their community nursing services for the duration of the current situation, including the cancelling of some face-to-face services, in order to comply with social isolation guidance and reduce the risk of spreading infection. Where possible, alternatives are being arranged using phone and video conferencing resources. Full details can be found in the posters below, or more information parents can contact the new single point of access number on 0113 843 5683.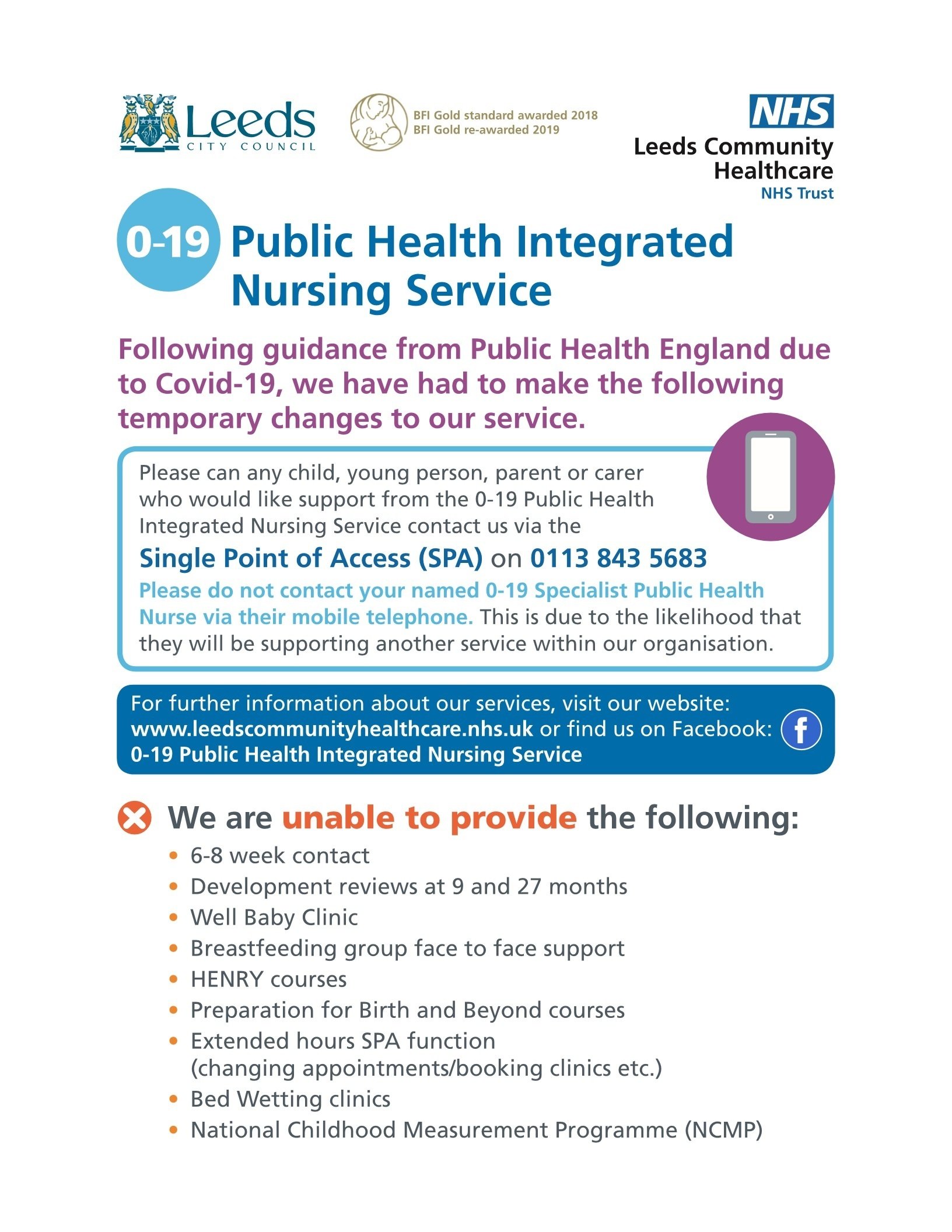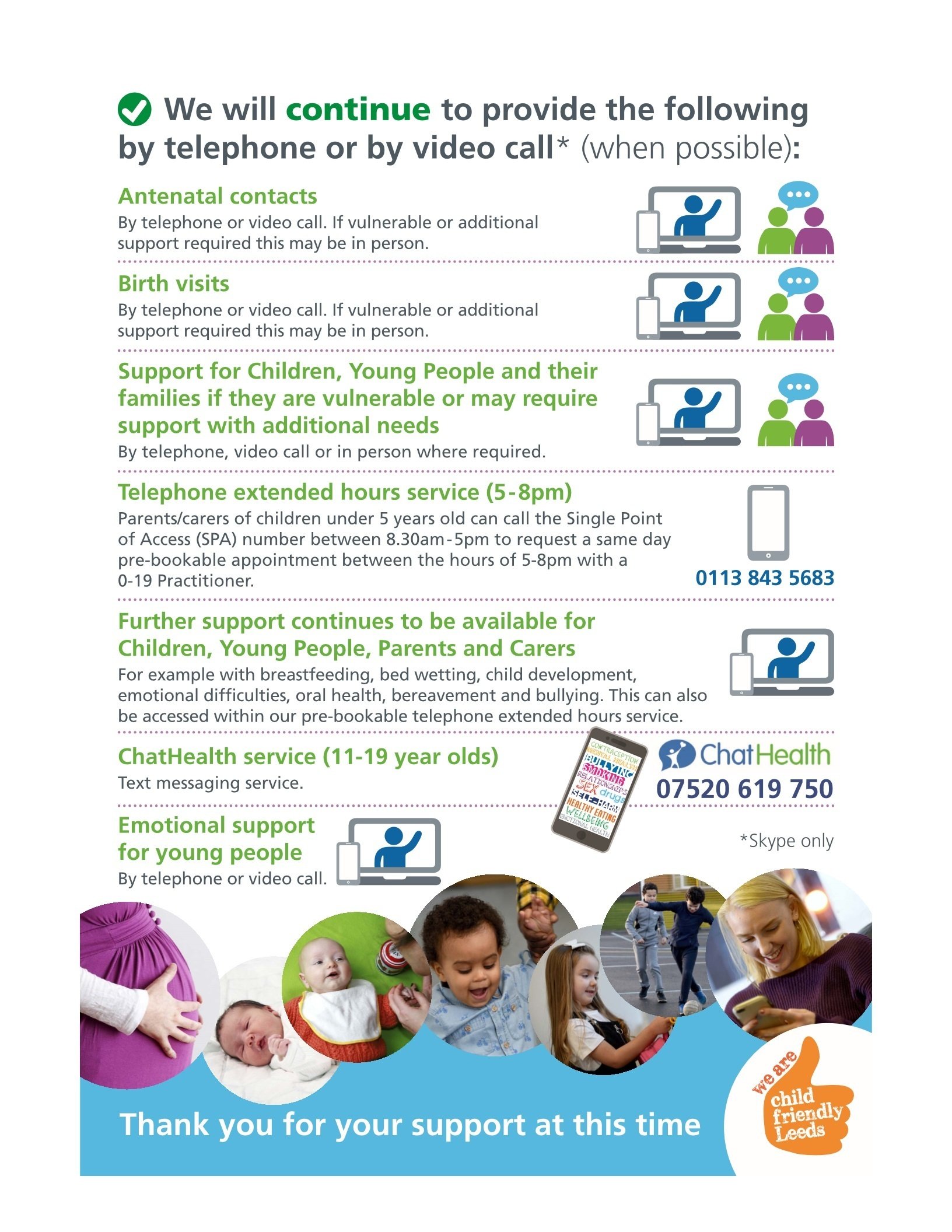 Thursday, 9th April, 2020
Video message from West Yorkshire Assistant Chief Constable: Stay Home, protect the NHS and Save Lives this Easter weekend
This is a very sensitive topic, but an incredibly important one as domestic violence can affect any family and any individual can be a victim. One consequence of the current lockdown restrictions has sadly been an increase in these incidents, so it is more important than ever that people are aware of the support that is available. The above link is from the Leeds Domestic Violence Service (LDVS) and provides information about service as well as contact details.
Their 24-hour helpline can be reached at 0113 246 0401. For emergency situations, call 999.

Safer Leeds have have launched a domestic violence campaign and can be followed on Twitter, @saferleeds and @LCCnews. There is also advice on the NHS website with information about what domestic violence is, what to do if yourself, a friend or a relative experience it, and links to a wide range of charitable organisations that provide support.
Our Queensway family is an amazing community, and we are always looking out for one another - please do what you can to make others aware of this issue and the help that is available. If in doubt, seeking advice is always the right thing to do.
That's right, it's time for more online safety advice! Another video messaging service that's seen a meteoric rise in popularity over recent weeks, Zoom has traditionally been favoured by businesses for remote meetings but is now being used by the wider public. It has the advantage over other platforms of offering extra functionality such as screen sharing and file uploading, but it nevertheless has safety issues for parents and children to be aware of. The above link to a company called National Online Safety offers a download containing detailed advice about Zoom (requires free sign-up), as well as information about other websites and platforms that children are more likely to be encountering at this time. Knowledge is power! Stay safe!

For further information on keeping children safe in their online activities, please look at our Online Safety page.
Thursday, 2nd April, 2020
Online safety alert: 'House Party' App
With video messaging being such a vital way to stay in touch at present, doubtless many of you will have become aware of an app called 'House Party'. It is a group video messaging service that allows up to 8 people to video-chat live and play games together. As well as the usual risks associated with live-streaming platforms, such as those around screenshots, unsolicited messages and inappropriate content, there are additional issues that parents and carers need to be aware of when considering allowing children to use House Party:
Chat takes place in a 'room'. Links to rooms can be

shared publicly

, for example to other social media platforms, which could see

uninvited users

joining.

If an uninvited guest joins a room they can easily '

friend

' others taking part in the live stream. It appears that when a friend is invited, their friends can also join a 'room'

without an invitation

, potentially increasing the opportunity for cyber-bullying and trolling.

'

Rooms' should be locked to prevent uninvited guests from joining; all rooms will lock by default if a user enables '

private mode

'.
Below is a link to a helpful blog article with lots more information, as well a handy safety card for quick reference:
https://www.ineqe.com/2020/03/30/houseparty-how-safe-is-the-app-taking-the-uk-by-storm/
For further information on keeping children safe in their online activities, please look at our Online Safety page.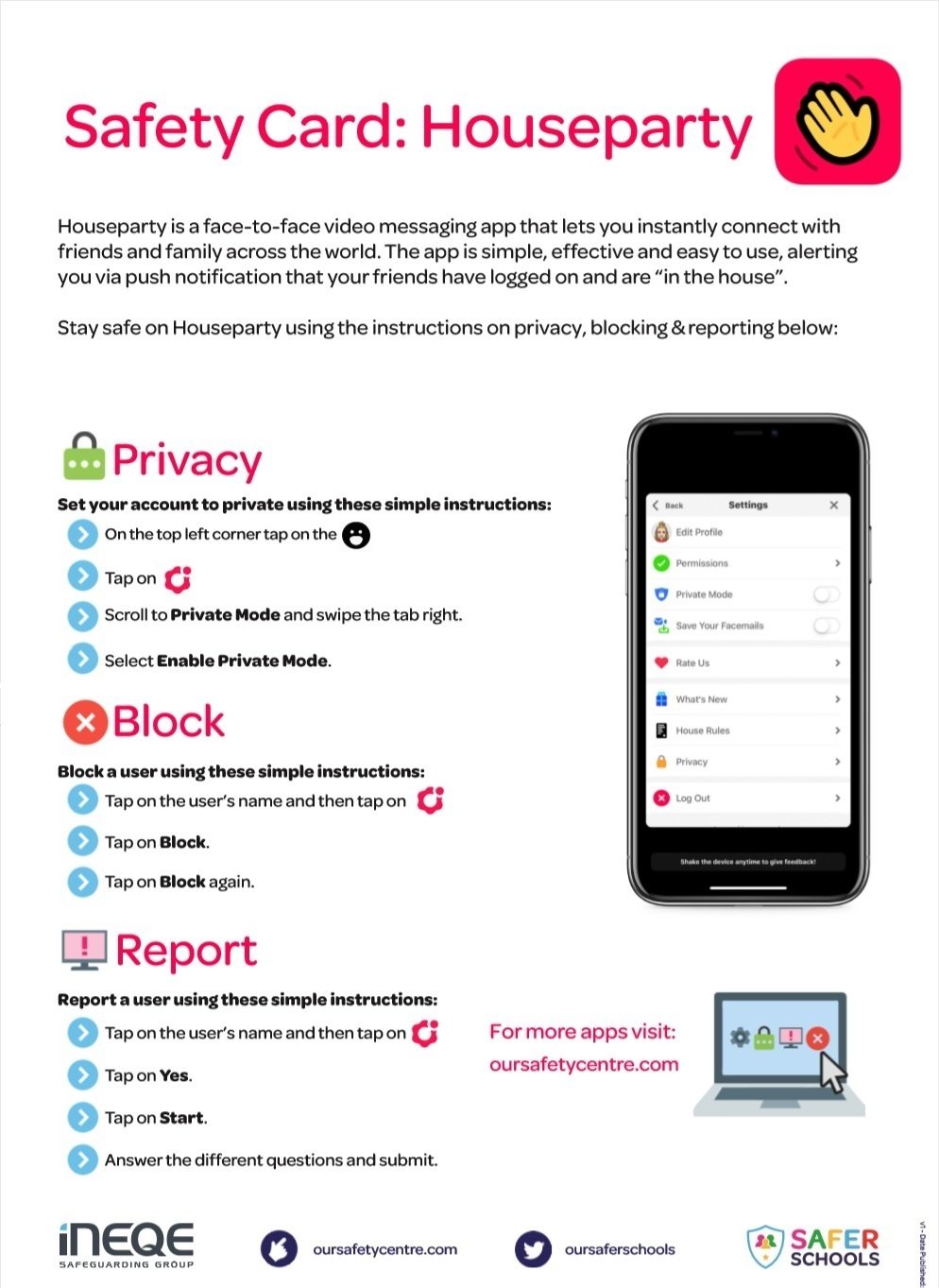 Wednesday, 1st April, 2020
Free access to Silvercloud web-based counseling and well-being support
Silvercloud is a leading provider of online mental health resources, and is used by the NHS in Leeds. During the coronavirus outbreak they are offering free access to online support for parents and carers.


The site has been designed by clinical experts with the aim of empowering you to think and feel better. The website contains programmes and tools for adults who are experiencing emotional well-being difficulties during the current situation. There are specific modules on stress, resilience and sleep plus some general well-being tips. It contains easy to use content and interactive tools.
The online space is secure and anonymous. No identifying details are required apart from a contact e-mail address. To access the site go to https://nhs.silvercloudhealth.com/signup/ and enter the code 'north' when prompted.
Thursday, 26th March, 2020
Coronavirus – New Police Powers: Video Message by Chief Constable
Video message by West Yorkshire Police Chief Constable John Robins QPM in relation to the ongoing threat from the Coronavirus pandemic, and new police powers to help keep people safe and slow the spread.
Leeds City Council launches Coronavirus Hotline
Leeds Council have opened a hotline for anyone in the area having difficulty obtaining basic supplies during self-isolation, in order to connect them with a local volunteer who can help. Anyone experiencing problems can call 0113 378 1877.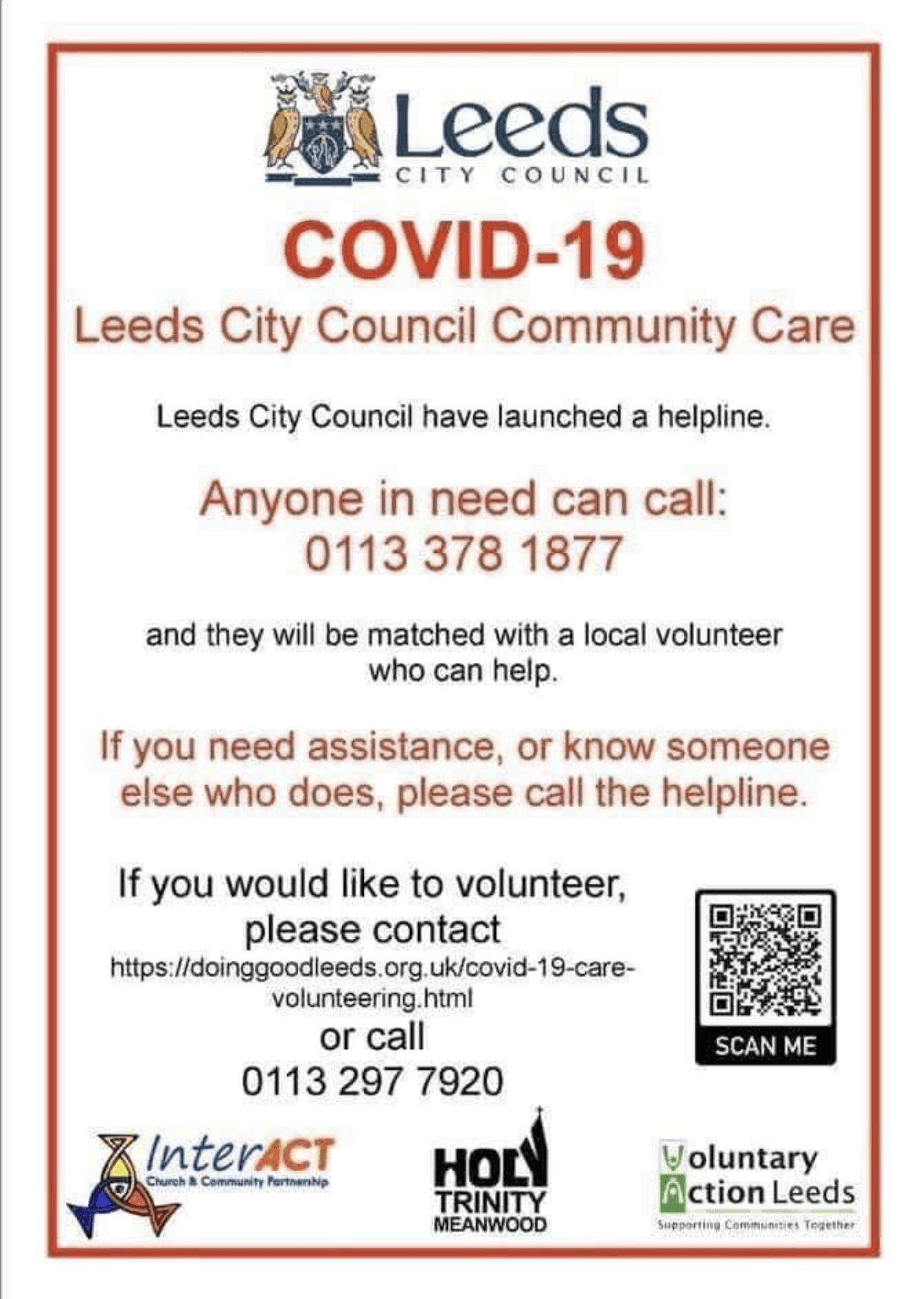 For more information, please read the original article from the Yorkshire Evening Post:
https://www.yorkshireeveningpost.co.uk/health/coronavirus/new-leeds-coronavirus-hotline-number-launched-2518331
Coppice Wood Avenue, Yeadon, Leeds, United Kingdom, LS19 7LF
01943 874925
office@queenswayschool.co.uk