Computing
At Queensway Primary school we adhere to the 2014 Primary National Curriculum for Computing across all Key Stages.
Computing is a creative and engaging discipline that allows children not only to access and develop skills that are becoming increasingly more relevant in an ever-changing digital world, but to learn how to navigate this world safely and positively.
In accordance with the new National Curriculum for Computing, pupils are taught the principles of information and computation, how digital systems work, and how to put this knowledge to use through programming. Building on this knowledge and understanding, pupils are equipped to use information technology to create programs and systems, and to use the internet (including email, blogs and vlogs) safely. Computing also ensures that pupils become digitally literate & able to use, express themselves and develop their ideas through, information and communication technology & at a level suitable for the future workplace and as active participants in a digital world.
At Queensway, the computing curriculum is broken into 5 strands, each with a progression of skills that are taught in each year group, including:
e-safety,

programming,

handling data,

multimedia and technology and the effect on the wider world.
These areas are taught at Queensway using a wide range of technology including desktop, tablet and live coding strategies, allowing children to access the subject in relevant forms.
Our Computing sessions are taught by specialist teachers from Junior Jam, who collaborate with teachers closely to ensure that a rich, engaging Computing curriculum is provided for all ages and abilities and our staff always strive to make real-world and cross-curricular connections to help our children progress in all areas of Computing and help shape them into masters of technology, in control of their life online.
E-safety
At Queensway, every child is safe, happy and inspired and this includes online. In every area of the Computing curriculum and beyond we ensure that there is a rigorous focus on staying safe online. using the school SMART code, children know how to avoid, identify and report unsafe behaviour online.
We regularly discuss e-safety in school and in keeping with our e-safety policy, regularly review and respond to developments in apps, online gaming and hardware that may affect how children access the internet and therefore the strategies they need to stay safe online.
In response to the constant changing of the internet and how it is used, E-safety lessons are conducted throughout the school to ensure that children of all ages are fully aware of how to protect themselves online. We also celebrate national initiatives to promote safety and positivity online.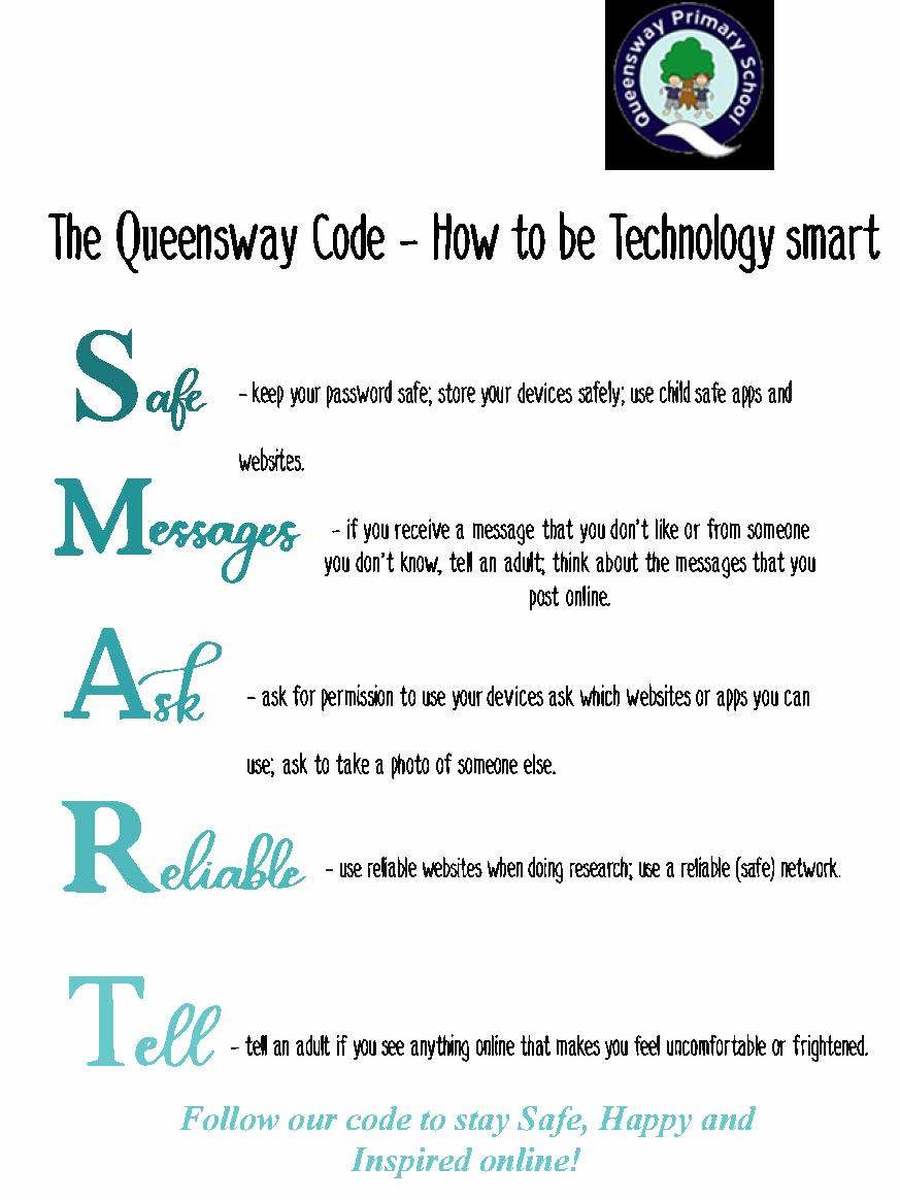 Our online learning platform
To facilitate home learning, we are using the online learning platform, Seesaw, which allows children to access and share their work in a variety of ways and build their confidence online. Through Seesaw, children can process, record and photograph their learning, giving them a meaningful connection between home and school and a completely secure place to explore sharing content online.
Each child has their own Seesaw code to access and share work at home and in school.